Mediante las herramientas de diseño adecuadas, aprenderás a crear soluciones innovadoras frente a cualquier reto
Download all job templates for free
Enter Dothink Lab Enter Dothink Lab and discover our digital ecosystem, where you can find all the tools of the Designpedia. 
In addition, you will find endless resources through which you will develop the ability to generate disruptive and innovative solutions.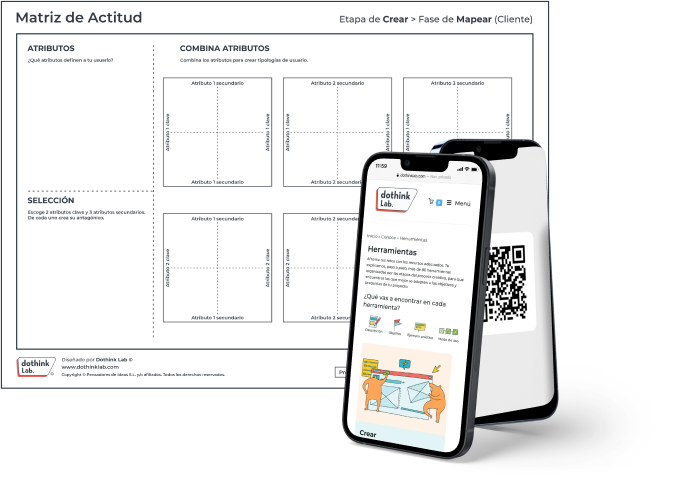 Where did Designpedia originate?
The beginnings of this book date back to 2011, when Rafael Zaragozá and Juan Gasca, founders of Thinkers Co. saw the need to help people understand the challenges of the business world and to encourage disruptive thinking through their own work methodology: Design Thinking.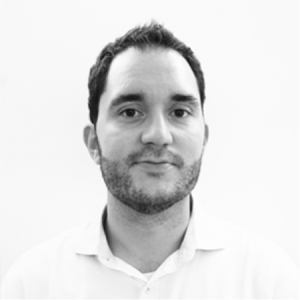 He is an innovation catalyst with a broad background in design, entrepreneurship and business. His experience as a strategic consultant gives him the ability to rethink the status quo and find new ways for action.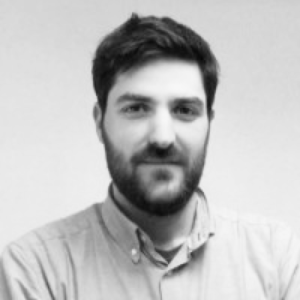 Utopian thinker. Trained as an industrial designer, his true passion lies in the knowledge of people and the hybridization of concepts. His ability to execute rapid prototyping focuses on early user testing in order to achieve real innovation.
With the purpose of finding unexplored connections and creating new business solutions, the idea of creating this practical guide to creativity and innovation arose, resulting in the Designpedia, which was soon joined by "The Designpedia Workbook". Both have become the definitive guides for many work teams, as they provide a point of information, a place to consult where useful instruments are available, from the phase of understanding business challenges to the search for and development of solutions.

The different tools included in the book are the result of years of work, where their effectiveness has been proven to develop creativity and innovation in different companies, which has led to the creation of Dothink Tool, a collaborative work tool, and DothinkLab.com, a digital ecosystem with which to face challenges and develop projects collaboratively.



¿Te atreves a poner en práctica tus conocimientos?
Con el Workbook de Designpedia podrás desarrollar con éxito proyectos de innovación gracias a los tres itinerarios de trabajo que se presentan: creación de un producto, creación de una experiencia de cliente (CX) y creación de un nuevo modelo de negocio.
¿Te atreves a llevar tus conocimientos a otro nivel?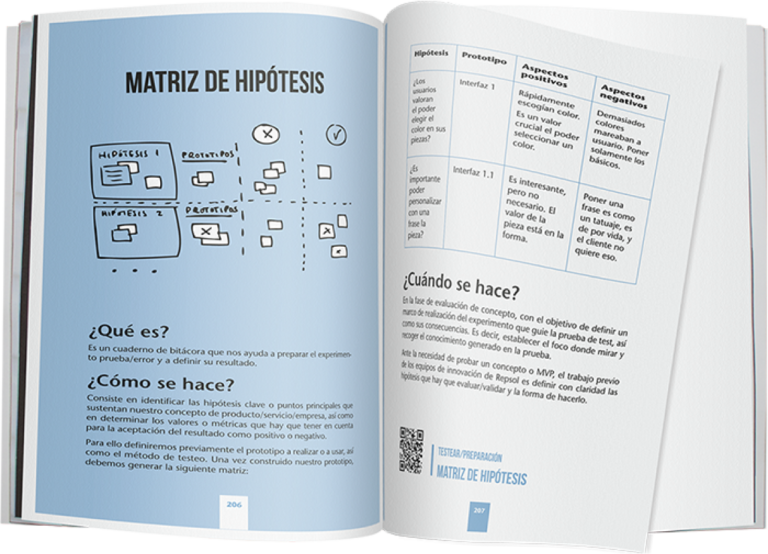 Creativity is not created, it is built
Through the 80 toools compiled in Designpedia, you will be able to generate solutions in an agile and structured way, allowing you to create your own innovation process adaptable to each project.
Our methodology is based on the Double Rhombus Model of Design Thinking, a design process composed of four work phases: Map, Explore, Build and Test.
Assigned to the stages of divergence and convergence, they constitute the basis for the application of the different tools.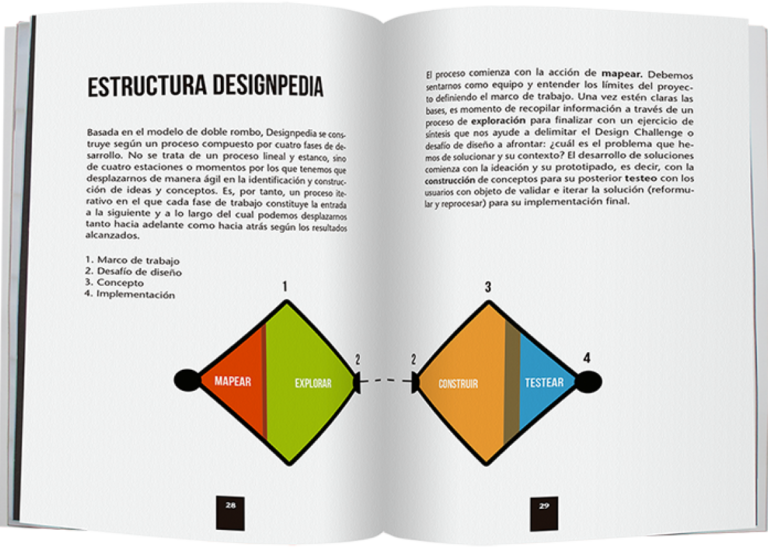 Designpedia going around the world!
">Designpedia has already crossed the other side of the pond! It has become a practical guide for people and companies all over the world that share the same objective, to create value. It is a radical change of perspective, moving from designing FOR people to designing WITH people.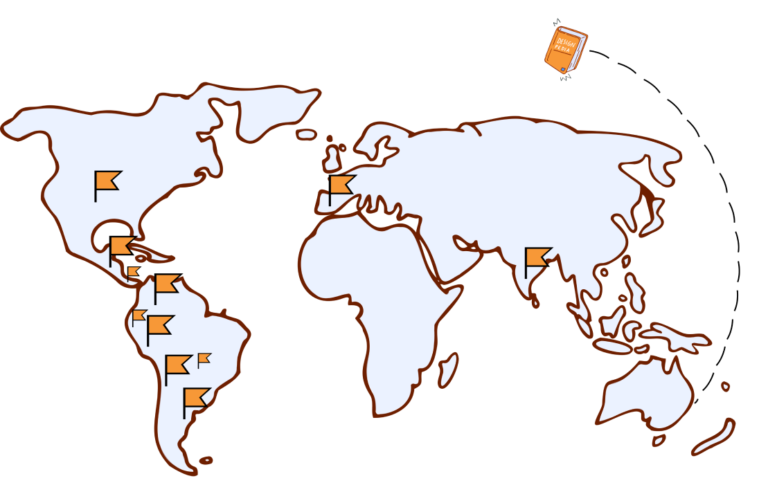 Business strategy and design agency whose mission is to reimagine and rethink your business. We empower new ways of working and make tangible ideas through our creation and transformation services.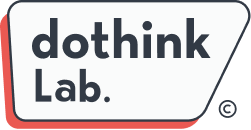 Digital environment where you will find training, tools, toolkits and many more resources with which you can face challenges and collaboratively develop projects.


Collaborative platform for project management and Design Thinking tools connected to Google Drive. Put your innovation processes into practice in digital format!